Searching XEmacs
Quick Links
About XEmacs
Getting XEmacs
Customizing XEmacs
Troubleshooting XEmacs
Developing XEmacs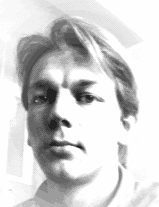 XEmacs Home Page for Christian Nybo
This is the XEmacs home page for Christian Nybo, one of the developers of XEmacs.
He can be reached at <christian.nybo@xemacs.org>, as well as <chr@xemacs.org>.
Christian is a student at the Norwegian School of Economics and Business Administration in Bergen, Norway. He used to work for an internet startup called New Media Science, doing scripting and violation of HTML DTD's. After graduation, spring 1999, he'll be looking for a job involving lisp programming, French and Russian.
Contributions to XEmacs:
Former maintainer of the XEmacs FAQ and proud author of `zap-up-to-char'.